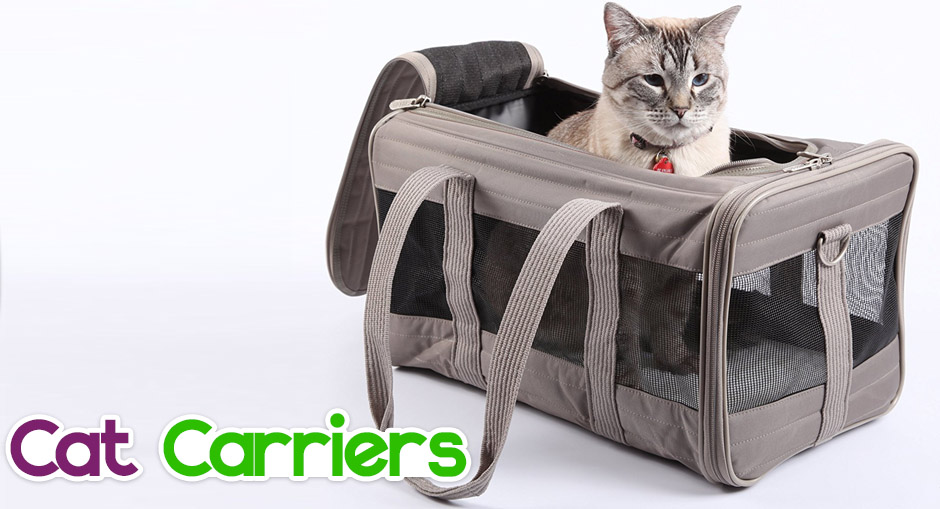 Cat Carriers
Cats aren't very thrilled when it comes to travel. They don't like the idea of being moved from one place to another without their will, but you can't leave your cat behind all alone when going on a road trip or even just a long drive. Not all cats are like that, though. Some are adventurous and even fond of car rides.
Either way, to be able to manage a cat when travelling by car, you need a cat carrier. Which cat carrier you should purchase depends on the type of cat you have. There are fabric carriers and plastic ones, each of which suits different cats. Try to buy one that is washable so that you can clean it quickly. It is also essential that the carrier is properly ventilated with doors and windows. After all, you aim to keep your pet secure not trapped.
A cat carrier makes it easy to keep your cat in place. Here are five cat carriers for travel by car. These are reliable and convenient to carry along.
AmazonBasics Soft-Sided Pet Travel Carrier
This pet carrier is of the size of a duffle bag. It is easy and simple to handle and has a classy design. It has handles and an adjustable strap that make it easy to carry. It has windows and a door as well, which makes it breathable. It is also homely and comfy. It is made of an air mesh material that keeps the cat from getting overheated.
Necoichi Portable Ultra-Light Cat Carrier Ultra-Light Cat Carrier
If you travel with your cat by road just occasionally, then this one is the best choice. It is lightweight and made of breathable material. It can fold easily and quickly, so it isn't a nuisance that occupies much space. It is ideal for all those people who don't need it frequently.
Petsfit Expandable Travel Carrier
As opposed to short trips, if you are someone who goes on long trips with your kitty, then this one is the right choice. The expendable carrier folds out from one side to give the cat extra space. It also has a pocket, and the interior has a comfy mat. It comes in three sizes. Overall, it's a spacious and ventilated carrier.
Bergan Comfort Carrier Soft-Sided Pet Carrier
This sturdy cat carrier is one that is even approved for airline travel. Made of breathable material, it has windows and is easy to carry with a strap. It has a plush bedding installed as well. It comes in several colors for you to choose from.
Sherpa Original Deluxe Pet Carrier
This one is very durable. It is well ventilated, and it has pockets as well. It has a door for both top and side entry. With classy looks, it also has a shoulder strap for convenient carry. It comes in three sizes and has many color options as well.